"Ensure a smooth deployment through an enhanced users adoption"
Reduce Migration Effort & Time
OneDrive Deployment Tool takes care of burdens linked to all the files and folders restrictions. No need to train users to know or understand the restriction before migrating. No need to analyse all files and folders against restrictions.
Detect problems before they occur
Migrating unsupported files or folder will lead users to have synchronisation issues requiring manual efforts after the migration. OneDrive Deployment Tool will detect and correct several errors while reporting complex ones to the users through a compacted list including a direct access to the concerned files.
Simple & Intuitive User Interface
OneDrive Deployment Tool is made for end users and created based on feedback from communities. It includes an intuitive 4 steps process where users are guided to migrate files and folders into the OneDrive in a semi automated manner.
Enhanced OneDrive user Adoption
The migration step represents the first contact from end users with the OneDrive solution. It is key to remove any burden or complexity to ensure a good adoption. OneDrive Deployment Tool facilitates this action and allows end users to focus their efforts on using the solution.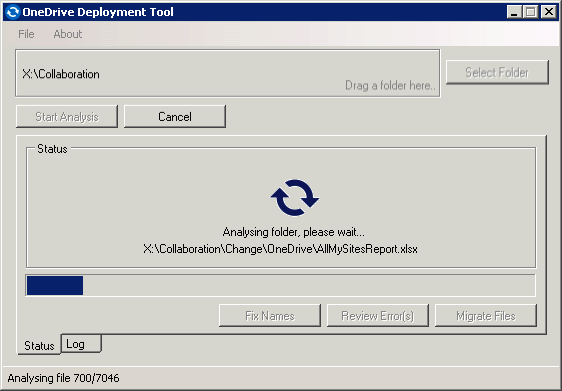 Features
Detect & Correct faulty characters in file and folder names
Detect file or folder names exceeding the authorised lengths
Detect Forbidden file name & extensions
Detect file and folder exceeding the authorised sizes
Check access to the the OneDrive folder
Various customisable parameters:
Replacement character
Authorised file and folder size
OneDrive local folder & SharePoint locations


No installation required
Demo restriction
Analysis is restricted to 20 files/folders.
Naming/Complex Errors reporting limited to 5.
Data Move to OneDrive folder
Requirements:
Client: .Net Framework 4.5
Server: SharePoint 2013 Online (O365) / SharePoint Server 21013 (onPrem)
Plans
Choose your optimal plan: